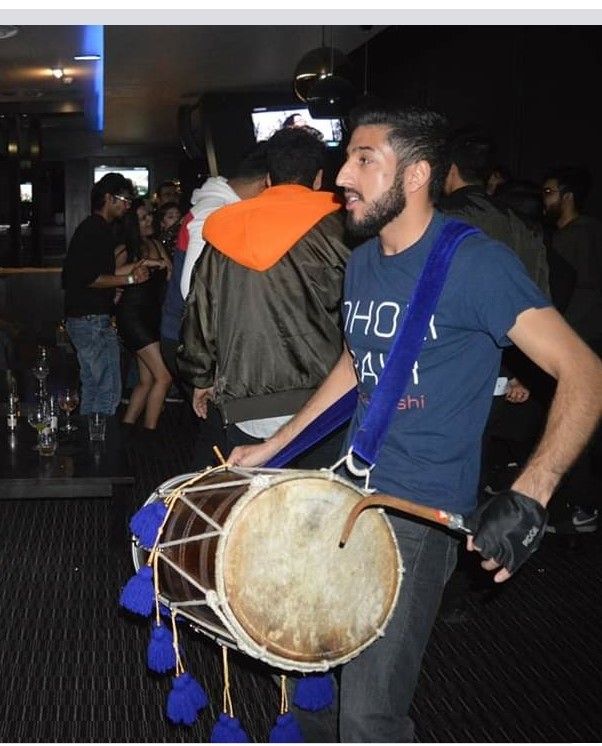 I first came across the dhol drum when I was a young boy (8 years old) travelling with my family in Punjab, India. I was mesmerised by the beats produced by the dhol and to this day the memory of these dhol beats remain clear in my mind.
I received my first dhol as a gift from my grandfather aged 12 and began learning how to play at my local temple. Aged 14 onwards I started to perform at events such as: charity fundraiser events for the local temple, 2012 Dudley Olympic Torch Relay and various weddings.
Currently, I am a Medical Student at University of Glasgow and carry out dhol performances outside of my studies. I have performed at: Bollywood club events, charity events, weddings and Indian Festivals.
The dhol has a popular sound which can be blended with other instruments and different styles of music. During each week of the NHS clap I carried out a dhol performance for my street which received very positive feedback from my neighbours.
This led to the creation of a Dhol & Rock
collaboration of the classic song 'We Will Rock You' by Queen as a tribute to the NHS. Myself and Rob Harris (Guitarist) received news coverage in: ITV News Central, BIZASIA, Birmingham Mail, Dudley News, Stourbridge News and Halesowen News for our NHS tribute.
In the future, I will look to create more innovative dhol performance both for charitable causes and to make people dance!